Look at how easy it is to save lives!
MESA, Ariz. –
"I have always believed that people want to help; they just need to know how." founder of Control Alt Delete Laura Pahules
1 in 4 women and 1 in 9 men are being abuse right now https://ncadv.org/STATISTICS
Someone you know is trying to figure out how to escape.
Control Alt Delete provides one time assistance in helping people escape domestic abuse. When a referral comes in from a victim advocate, prosecutor office or crisis response team we immediately work to find solutions that remove the barriers keeping those Survivors in unsafe situations. Since Control Alt Delete is 100% volunteer run $1 of every single dollar donated goes directly towards helping Survivors escape.
Let's look at all the different and unique ways you can help:
Donation Drives

Hygiene items for BIN Bins
Safety Kit items
Fast Food gift cards
Sneakers

Wish Lists
Roundup App
Fry's Community Rewards
Amazon Smile
AZ Tax Credit
Shop Raise App
every.org
$21.75 a month Saves Lives
"Change" Lives pocket change collection
Order a Control Alt Delete limited edition t-shirt
Hold a social media fundraiser
Send items you would like to donate from anywhere in the United States through Give Back Box
Donation Drives are a fun and engaging way to help Survivors of domestic violence. Control Alt Delete gives a BIN Bin (basic immediate need basket) full of hygiene items and essentials to every in-person escape allowing the Survivors dignity in not having to ask for necessities.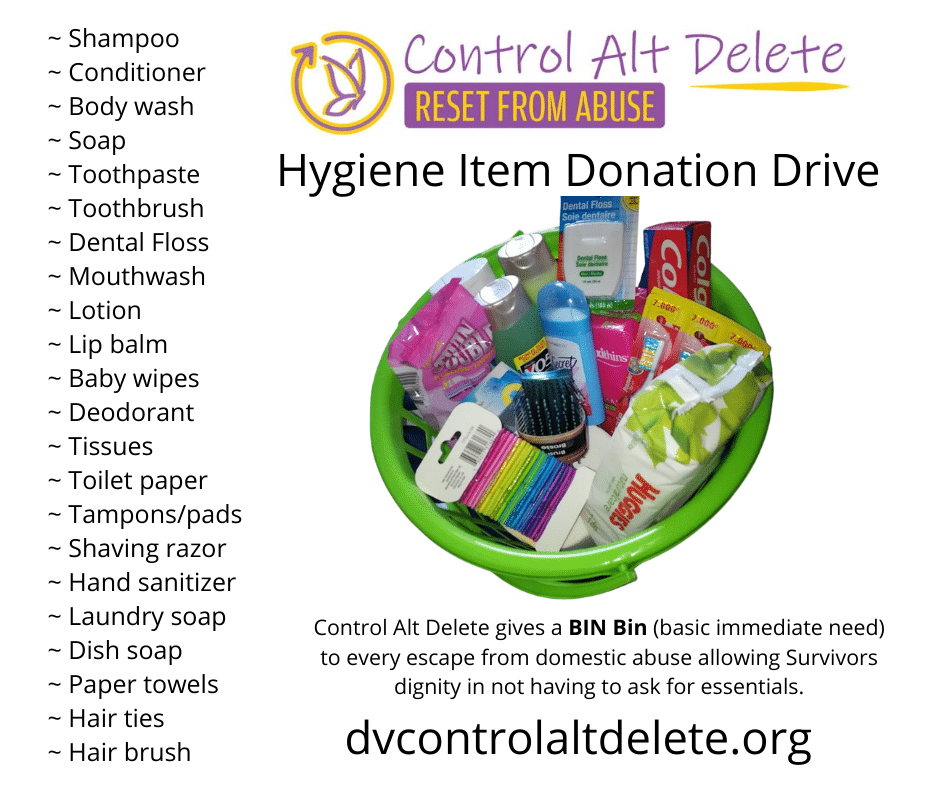 Hold a donation drive at your work, you school, your gym, your daycare, your neighborhood.
While BIN Bin items are necessities the Control Alt Delete Safety Kits provide much needed safety measures to Survivors escaping domestic violence. A donation drive for Safety Kit items goes a long way to helping Survivors heal and feel safe again.
An ongoing need for Control Alt Delete are tennis shoes.
We need them in all sizes and any condition. There are surprising number of escapes where the Survivors are barefoot having fled with nothing but what they have on. We keep the new and like new sneakers to give out as escapes need them. Only sneakers please. The old worn out tennis shoes are recycled as a fundraiser that keeps them out of the landfill while helping people escape domestic violence.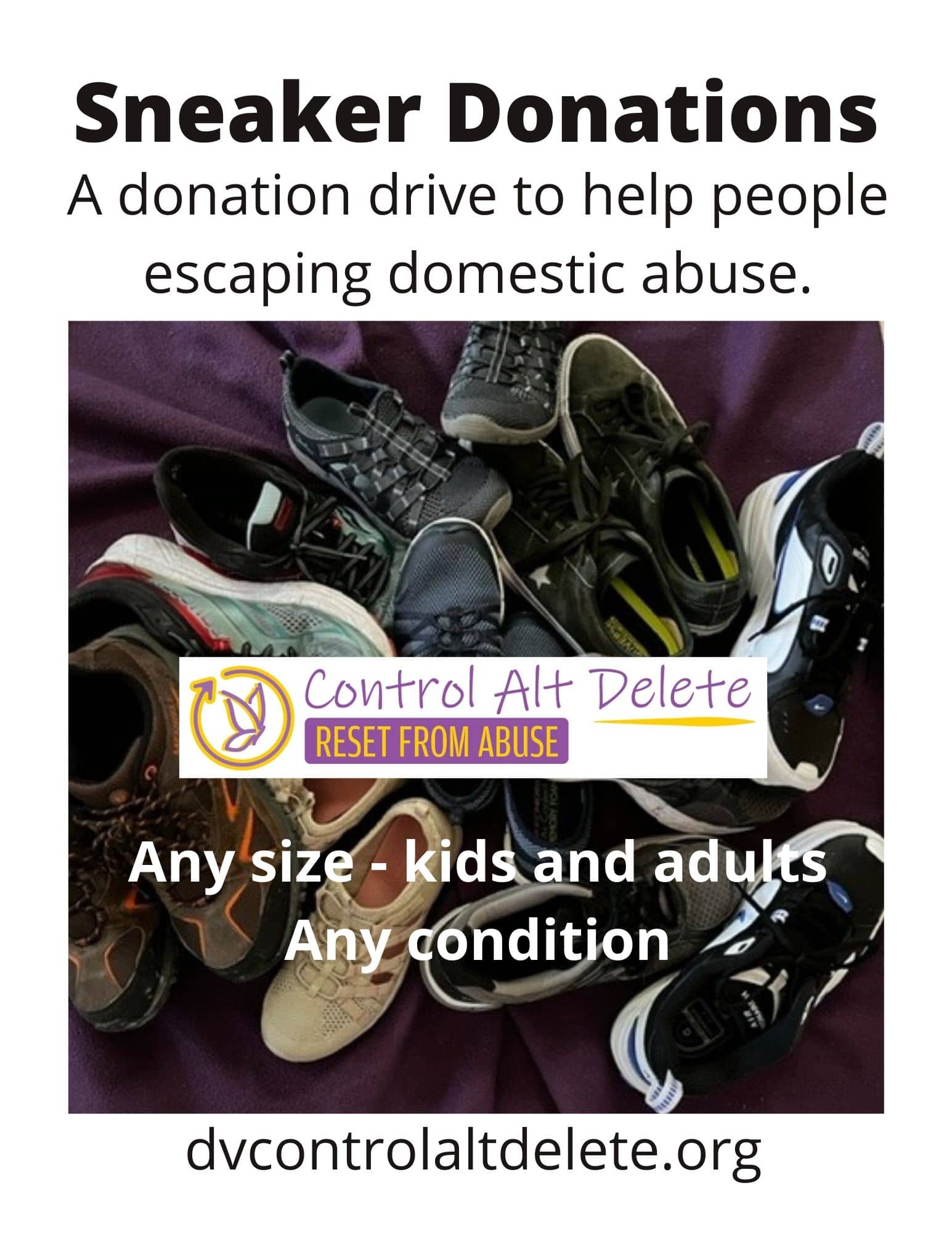 We also collect fast food and grocery store gift cards to give out as Survivors escape.
Think of a child that has had their whole life turned upside down and a meal might be the only sense of normalcy or the Survivors that are escaping and have long distances to travel.  Both physical and electronic gift cards in $10 increments are perfect!
Grocery store assistance is the largest requested service for the senior citizens we help escape domestic violence.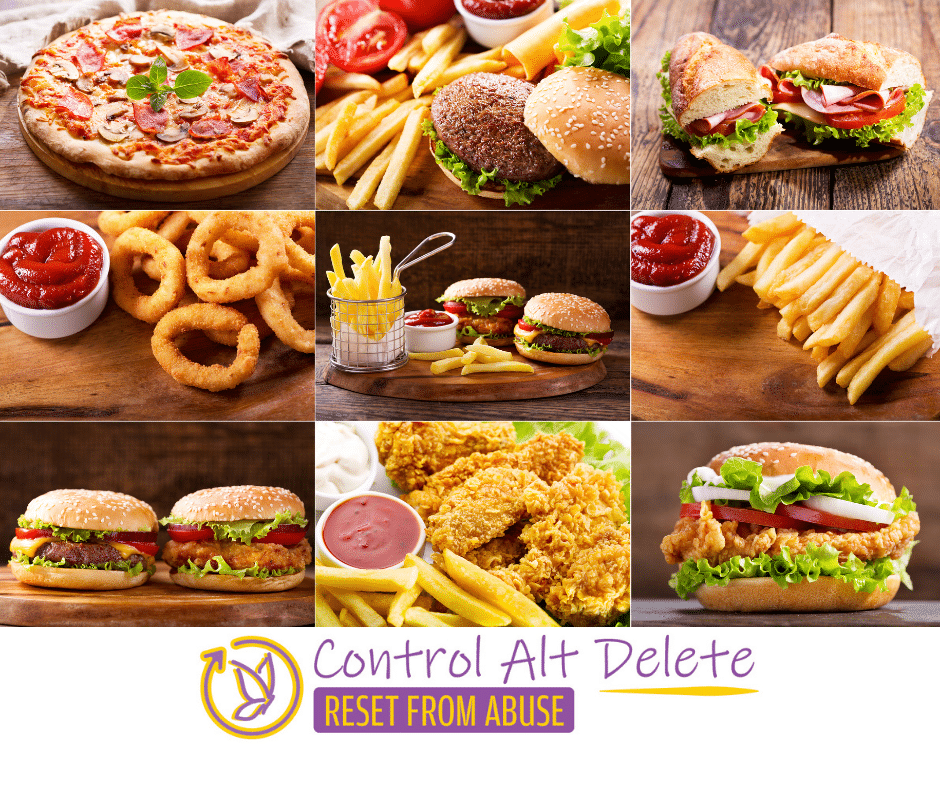 BIN Bin items, Safety Kit items and gift cards can be found on many of the Control Alt Delete wish lists; another easy way to help.
domesticshelter.org wish list:   https://www.domesticshelters.org/az/mesa/85213/control-alt-delete-llc/wish-list
Walmart Charity Registry For Good: https://www.walmart.com/registry/RR/fbbcc8dc-b0c0-4067-861c-a1006e56348e
Amazon Wish List: https://smile.amazon.com/hz/charitylist/ls/F05ZSQ17MQDA/ref=smi_ext_lnk_lcl_cl
Target Wish List: https://www.target.com/gift-registry/gift-giver?registryId=09eab360-893b-11eb-b61c-70827eb96c4a&type=CHARITY
Wish lists make giving so easy.  Shop and everything comes right to Control Alt Delete then to the Survivors as we help them escape.
**If you shop from Amazon make sure to shop Amazon Smile. Shop as normal, doesn't cost you a thing and .5% of eligible purchases comes directly to Control Alt Delete!**
The RoundUp app is another very easy way to help.
https://app.roundupapp.com/#/Register/fc087cb4-0892-410d-bc74-0605a701a894
You choose the minimum and maximum amount to round up and you can pause at any time. Sign up today.
Do you shop at Fry's grocery store? You can link your Fry's Rewards Card to Control Alt Delete and help people escape domestic abuse every time you  shop!
It's true! Doesn't cost you a thing to save lives.
Linking your Fry's Rewards Card is an easy way to help.
Here is how to link your card:
https://www.frysfood.com/i/community/community-rewards
Have a Fry's Rewards Card – link it today. Don't have one – share this post because someone you know probably does.
The Arizona Tax Credit program allows a dollar for dollar contribution to qualifying charitable organizations and Control Alt Delete is a QCO our number is 22198.
Contribute $800 if you file a joint Arizona tax return and $400 if you file as single and that amount comes directly off what you owe the state. It's a dollar for dollar credit on your taxes!  I don't know why everyone doesn't do this!
There are several different tax credit and you can claim them all by contributing to qualifying agencies and schools.
Frontdoors Media put together a very comprehensive guide to AZ Tax Credits – take a look:  https://frontdoorsmedia.com/aztaxcreditguide/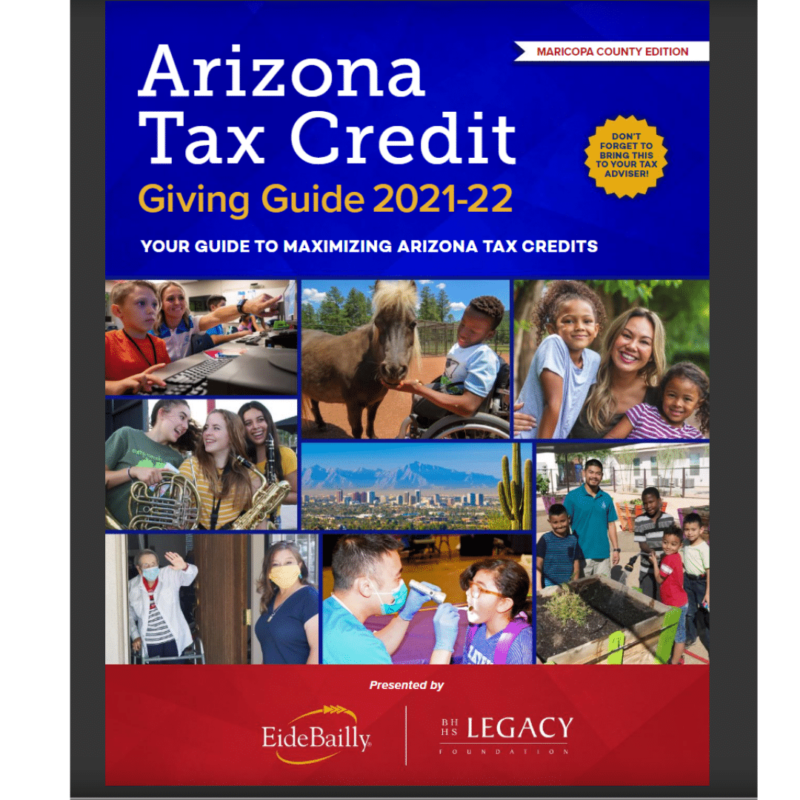 You decide where your tax dollars go!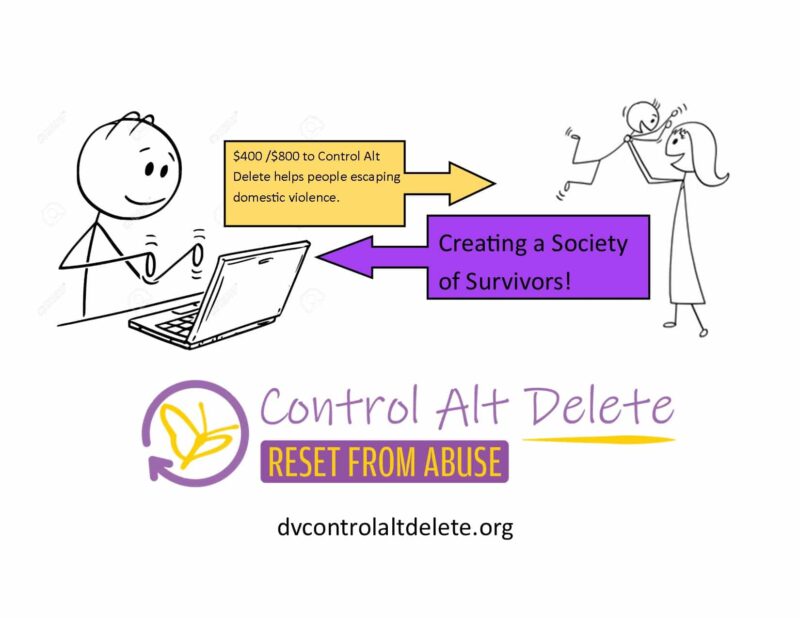 Have you heard of Shop Raise?
Now we've made it even easier to help our cause! It's simple, download the ShopRaise mobile or desktop app and every time you make a purchase at a participating retailer, a percentage will support Control Alt Delete. Click to download and start supporting us with every purchase:
This is such an easy way to help! Download the app plug-in and shop all your favorite sites.
One of the largest sources of donations to Control Alt Delete has come from social media fundraisers.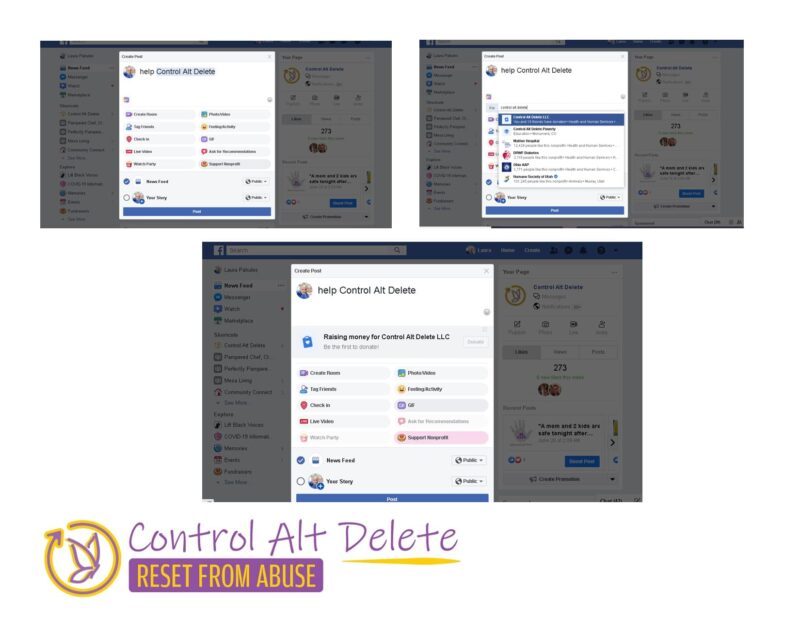 Facebook and Instagram have made it so easy to encourage peer to peer giving! And Control Alt Delete gets 100% of all funds raised; there are no fees associated with these social media fundraisers.
Starting a social media fundraiser not only raises funds but also increases domestic violence awareness. For every like, share, retweet or repost Control Alt Delete will get at least one request for help escaping. That means someone you know needs our help.
Are you a gamer? Have you heard of Streamlabs?
Did you know you can hold a live stream fundraiser for Control Alt Delete? Start your own stream today!
https://streamlabscharity.com/control-alt-delete-llc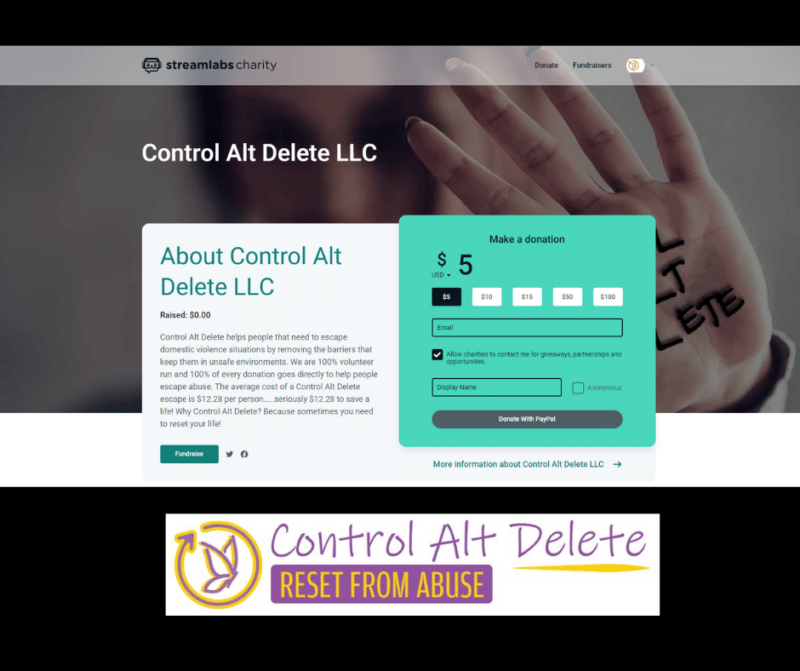 Do you have spare change sitting in a jar? Who doesn't! Start a spare change collection because you know…..you can "Change Lives"!
Print out this flyer and start collecting change: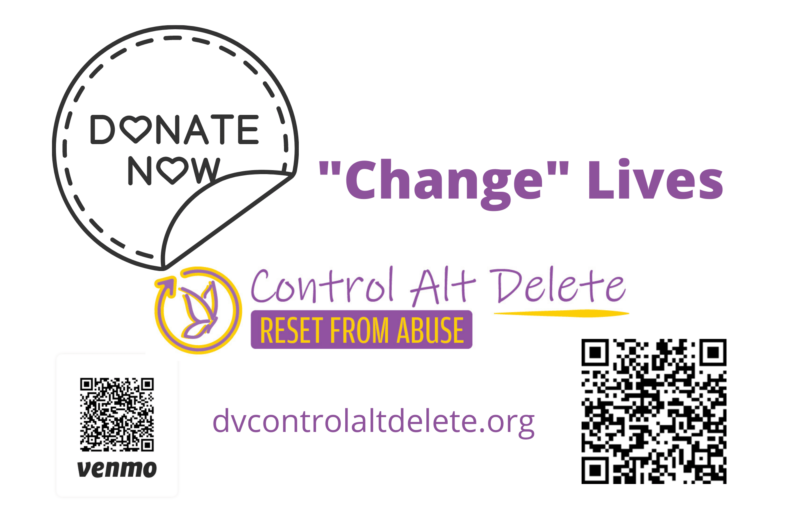 Order a limited edition Control Alt Delete T-Shirt from Bonfire: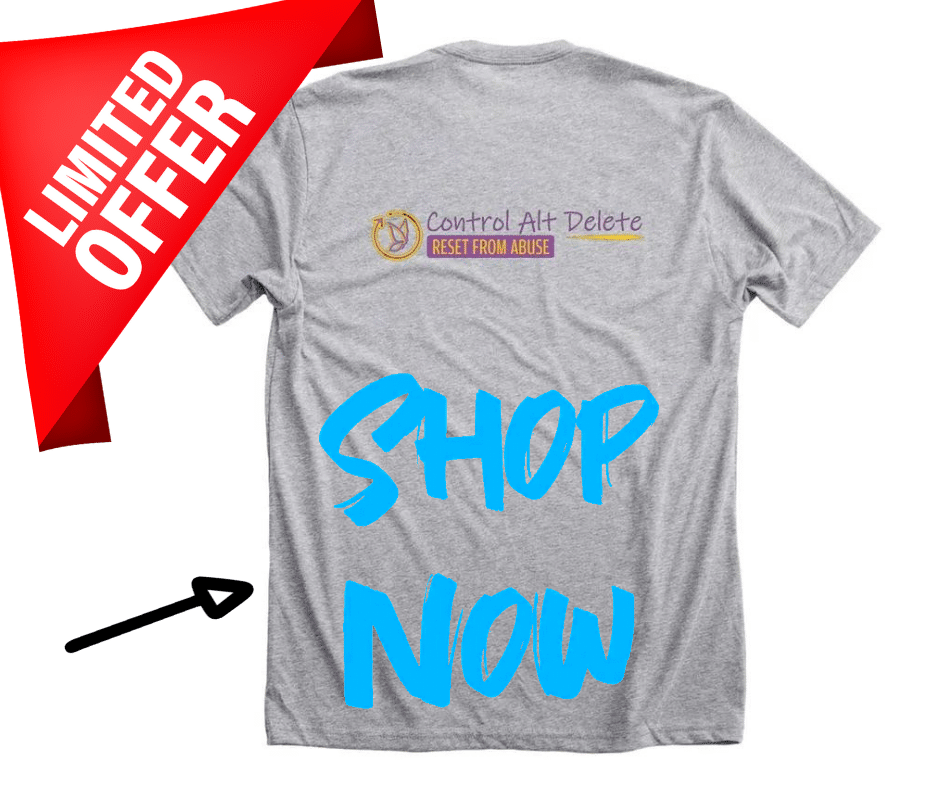 https://www.bonfire.com/control-alt-delete/
The average cost for a Control Alt Delete escape was $12.28 for 2019, 2020 and 2021.
That average cost increased in 2022 to $21.75. $21.75 to save lives.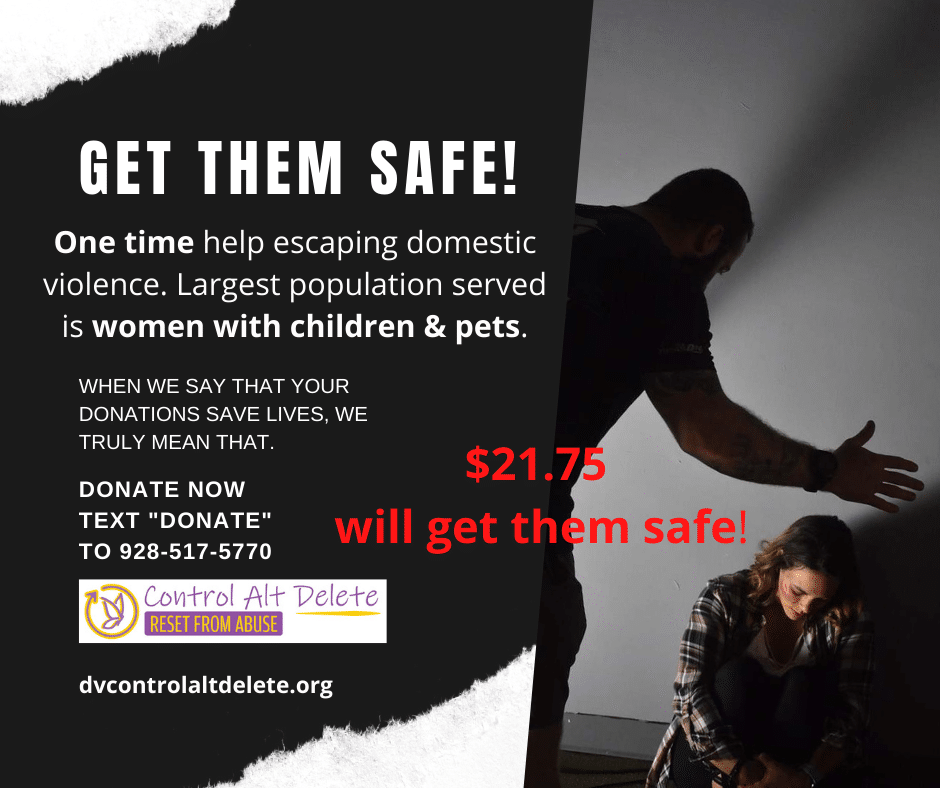 https://dvcontrolaltdelete.org/donate/
Every day is a great day to save a life!
Look! Control Alt Delete board member Katie's company made the domesticshelters.org 2021 gift guide! And you can still order them!
https://www.domesticshelters.org/articles/ending-domestic-violence/2021-holiday-gift-guide?fbclid=IwAR3cP9vVIvJ3iZccmwQYKXNDPTjZkOiFZ0Dr_r4g8Ieqj-a2nwvwzU-v3Cw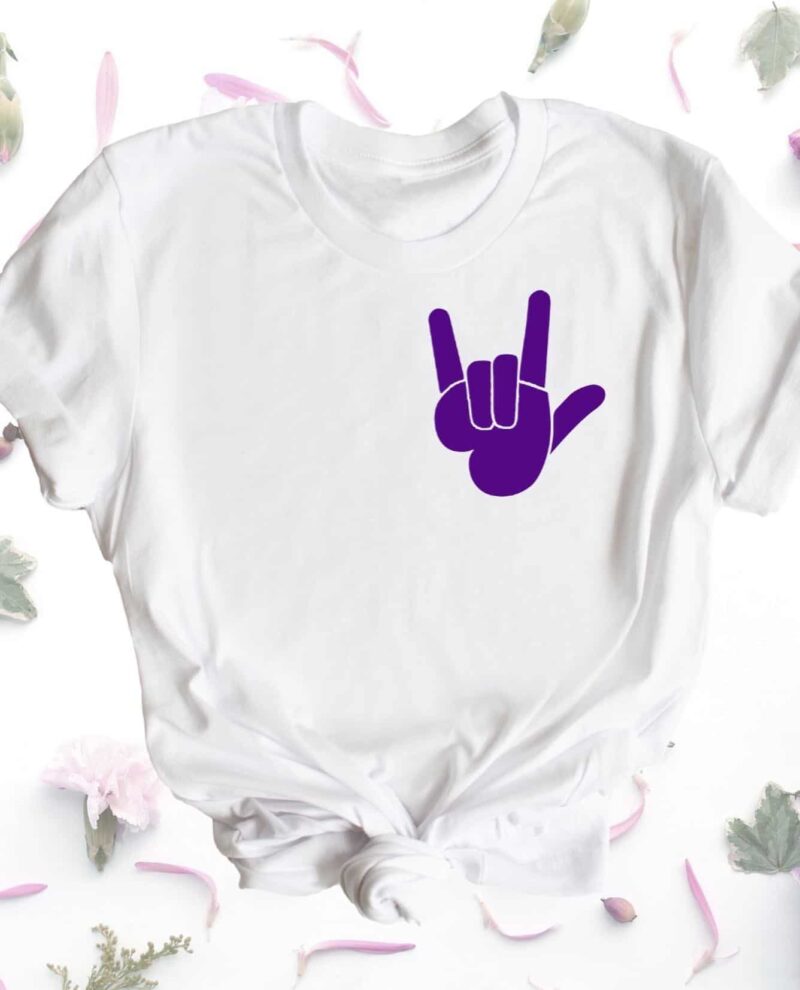 Every.org is another way to help:
https://www.every.org/control-alt-delete-llc
You can even start your own fundraiser for Control Alt Delete on every.org!
Give Back Box is the MOST amazing thing EVER!
Have you heard of Give Back Box? Such a great way to declutter while helping charities!
Visit 
givebackbox.com
 and look for Control Alt Delete 
Grab a box, any box and fill it with donations to help people escape domestic violence. Then visit https://givebackbox.shop/collections/domestic-violence/products/control-alt-delete-shipping-label 
Buy the $15 dollar shipping label, tape to your box (up to 50 pounds of donations!) and drop that box off at the UPS Store.
There are so many ways to support Control Alt Delete as we work together to create a Society of Survivors.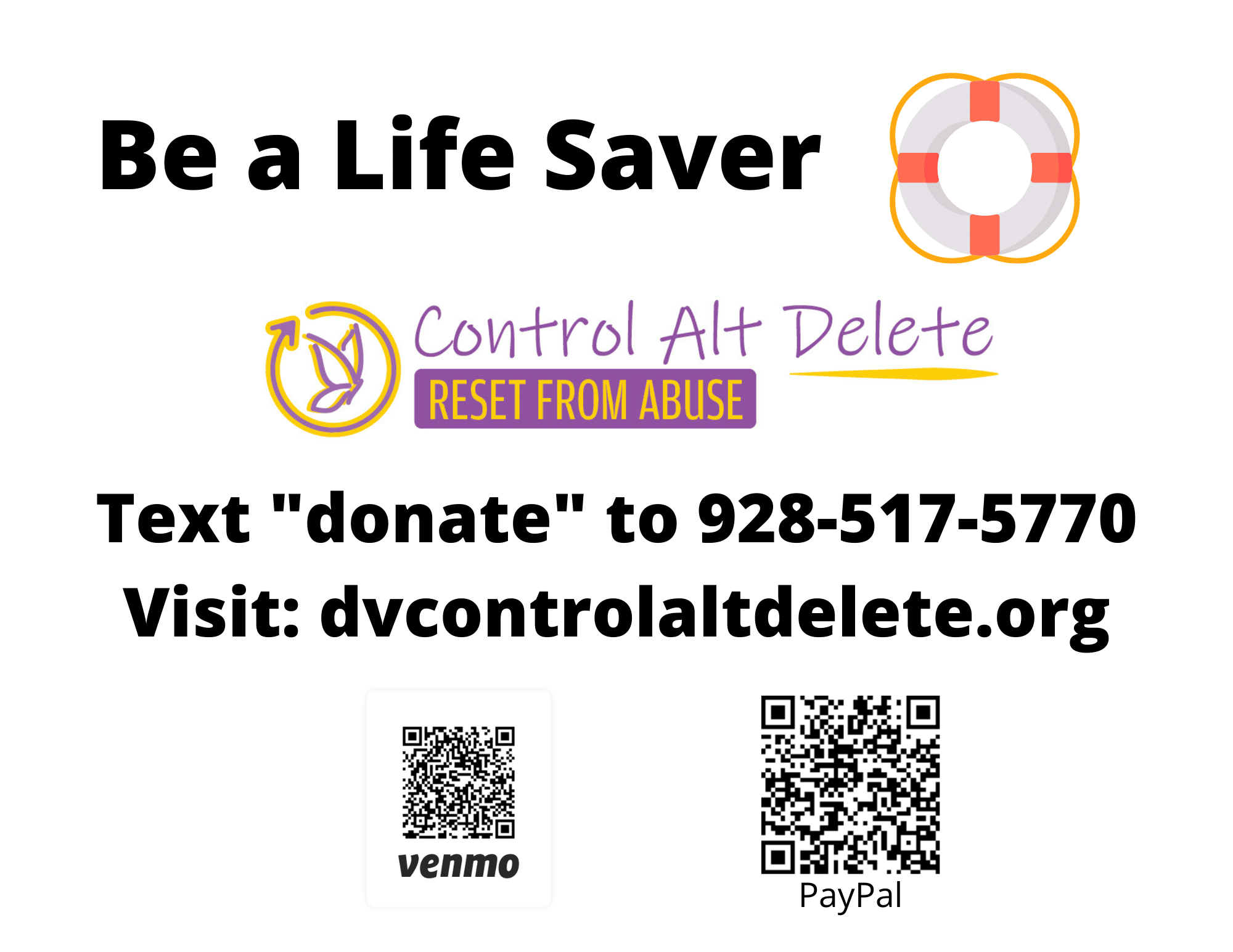 Some things to think about when giving:
What resonates with you and pulls at you to give?
Where will you donation likely have the biggest impact?
Can you designate how the funds are used?
1 in 4 women and 1 in 9 men are being abused right now. Someone you know is suffering from domestic abuse.
For Control Alt Delete – a grassroot nonprofit agency a donation of any amount is significant to our mission. Since we are volunteer run 100% of every single donation goes directly towards helping people escape abuse. $1 of every dollar saves lives.
You can designate how a donation is specifically used at Control Alt Delete.
Designate by service: Transportation, Lodging, Food & Essentials, Security
Designate by Survivor: Moms, dads, woman, man, Veteran, with pets.
You can donate $5 and designate it for a gas gift card to go to a mom with pets and $5 will help a mom, her kids and pets escape domestic abuse.
Give from the heart
Give Grassroots